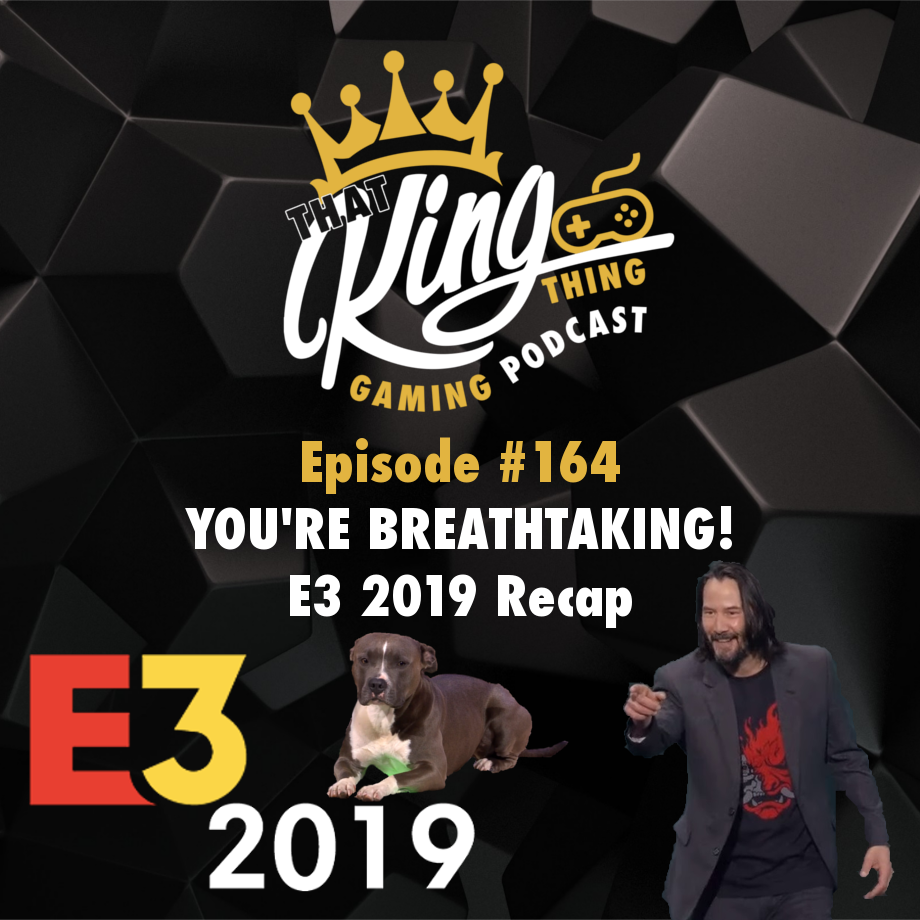 Keanu Reeves and Bam Bam the pit bull steal the show at E3, but doesn't that kind of show how average the expo was as a whole? Sure we saw some cool new games, but this conference seemed very much like a wind down of the current generation. Nevertheless, we are here to go through the major presentations and the highlights of each.
Buy a t-shirt or a mug or a hat or a hoodie or something. It'd be cool and gives us a bit of money towards making the show and please, please check out our Patreon page and support us to help make things even better! 
Merchandise Shop - Become a Patreon - Join Our Discord
Follow us:
Twitter - Facebook - Instagram - ThatKingThing.com
Thanks to:
James Hargreaves of DeeJayOne for our outro remix of the main theme
Rob Harrison of Gamma Radio for "Time To Play A Game" 
That King Thing Gaming Podcast (TKT) is Thomas King, Joshua King and James King. Three lifelong gamers who discuss weekly gaming news, games in general and challenge each others knowledge. From xbox to Playstation and Nintendo to PC, join the King brothers for comedy and laughs in the gaming world.
Gaming | Gamers | Microsoft | Xbox | Xbone | Sony | Playstation | PS4 | Nintendo | Switch | PC |  Netflix | E3 | Dauntless | Epic Games | CoD | Call of Duty | Modern Warfare | EA | Ubisoft | Avengers | Square Enix | Google Trends | Pokemon Sword | Pokemon Shield | Watch Dogs Legion | Bethesda | Cyberpunk 2077 | Keanu Reeves | Legend of Zelda | Breath of the Wild | Banjo Kazooie | Smash Brothers | Smash Bros | Elden Ring | Ghostwire | Outriders | Deathloop | Gears of War | Gears 5 | Halo Infinite | Project Scarlett | Google Stadia | Game Pass Ultimate